Shapley's Canine Care Products
Since 1938, generations of horseman around the world have placed their trust in Shapley's superior equine grooming products. Now… we are excited about extending that tradition into canine care. We promise to continue the same product quality and customer service that people have come to depend on from Shapley's in the past 82 years into every dog product. We invite you to try our Shapley's canine care line and experience why so many horse lovers trust their horse's care and well-being to Shapley's!

Inspired by Danny & Ron, of Danny & Ron's Rescue Organization, we are thrilled to support their amazing cause of helping save dogs lives.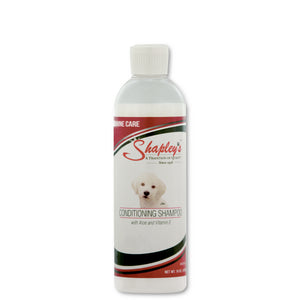 Shapley's CONDITIONING SHAMPOO luxuriously nourishes the skin and coat while providing a deep clean.
CONDITIONING SHAMPOO
Shapley's NO RINSE SHAMPOO not only provides deep cleaning, it also neutralizes odors and brightens the coat.
NO RINSE SHAMPOO
Shapley's MEDICATED SHAMPOO is specifically formulated to quickly and effectively provide relief from skin issues.
MEDICATED SHAMPOO
Danny & Ron's Rescue Dogs Featured on Shapley's Canine Care Products
The stories of three dogs out of the over 11,000 rescues by Danny & Ron's Rescue.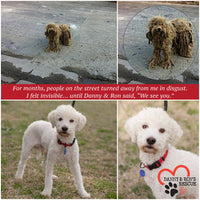 Jon's Story
Jon was found in a junk yard, a common dumping ground for unwanted dogs in Homestead, FL. John was loose, but staying close to another poodle that was tied to a rusty truck, left with no food or water. Jon stayed by his side long enough for both to be caught and rescued. They had been out on their own for weeks!
Just look at this transformation from a miserable mutt smelling of matted motor oil to a perfectly coiffed playful poodle. The other poodle was placed in a wonderful home. Due to Jon's severe fear issues with strangers, he now lives full-time at Danny & Ron's Rescue where he knows and loves his people! He is not available for adoption.
CONDITIONING SHAMPOO
Sadie Rae's Story
Sadie Rae was found as a stray, hanging around an office complex begging for attention and food from the employees coming in and out of the building. People left food and water out for her, thinking she would "head back home" but after 3 or 4 days they knew they needed to act quickly. Sadie was skin and bones, covered in fleas and ticks!
The employees banded together, caught Sadie and wrapped her in a blanket for the ride to our veterinarian. She was so sweet and a favorite at the clinic! After weeks of proper nutrition and vet care she blossomed into a magnificent, confident dog and was adopted into a loving, caring home!
NO RINSE SHAMPOO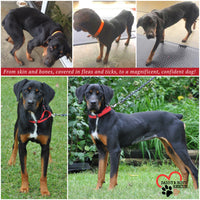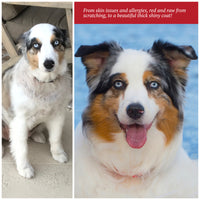 Cacie's Story
Cacie came to Danny & Ron's Rescue in 2017. She was surrendered by her owner for a few reasons, but mainly because of some aggressive behavior with her other two dogs. Cacie came with a lot of skin issues and allergies that needed to be dealt with! She was completely shaved, and her skin was red and raw in spots from scratching. The owner loved Cacie and had tried valiantly to find a solution for the skin issues but nothing seemed to work. Cacie was, quite frankly, miserable in her own skin. This may have contributed to her bad attitude toward the other family dogs.
She remained at a foster home for about 3 months and during that time the foster mom fell in love with her and adopted Cacie. She made it her mission to solve the skin issues and along with her vet, came up with a strict dietary and medication and bathing plan. The plan was a success and Cacie blossomed into the magnificent dog she is now, with a beautiful thick shiny coat!
MEDICATED SHAMPOO